Ticket sales have ended for this event.
---
DATE AND TIME: Sunday, October 9, 2022, 5-9:30 PM
LOCATION: [map] On Sunny Slope Farm, 1825 Sunny Slope Lane, Harrisonburg, VA 22801
---
¡10th Anniversary Tapas! in the beautiful Shenandoah Valley will feature mingling over great foods and beverages from A Bowl of Good, Cinnamon Bear Bakery & Deli, Cuban Burger, El Sol Mexican Restaurant, La Morena Mexican Food, Magdalena Bakery, Saint Isidore Homestead & Permaculture, and Santa Isabel Coffee.
Highlights also include an open bar with wine and Three Notch'd Valley Collab House beers, live music by Lua Project, and salsa and bachata dancing led by Phillip and Natasha Fusaro of Dance Together, all at On Sunny Slope Farm.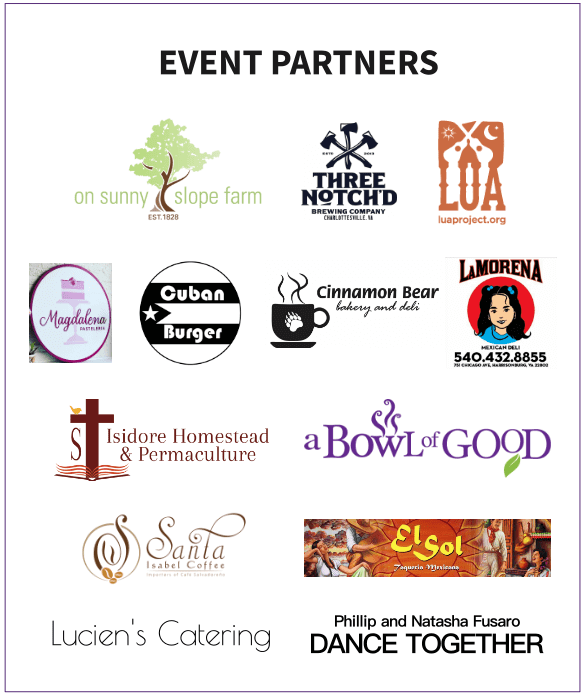 The foundations of SLI's mission began well before SLI's first decade as a Virginia nonprofit. The original SLI was founded by Peter Iver Kaufman and others in 2001 at the University of North Carolina at Chapel Hill. In 2008 Kaufman brought SLI to the University of Richmond, Virginia, and later to the Shenandoah Valley, where this organization was incorporated in 2012 and became a 501c3 public charity. Kaufman continues to serve as the program director for SLI in Richmond.