A celebration of college access opportunities for Scholars Latino Initiative scholars, COVID-conscious Noche de Salsa '21 at Steven Toyota in Harrisonburg featured a Latin-flavor drive-thru dinner & margarita with park & watch live Salsa dancing and an online raffle. WATCH THE SLI APPRECIATIONS VIDEO.
In the following video, learn about SLI directly from its scholars and read their notes of thanks, plus hear from SLI Board Chair Jason Good and recognize Noche de Salsa's generous sponsors. *La presentación en español de Jason Good, el presidente de la junta directiva de SLI, está abajo.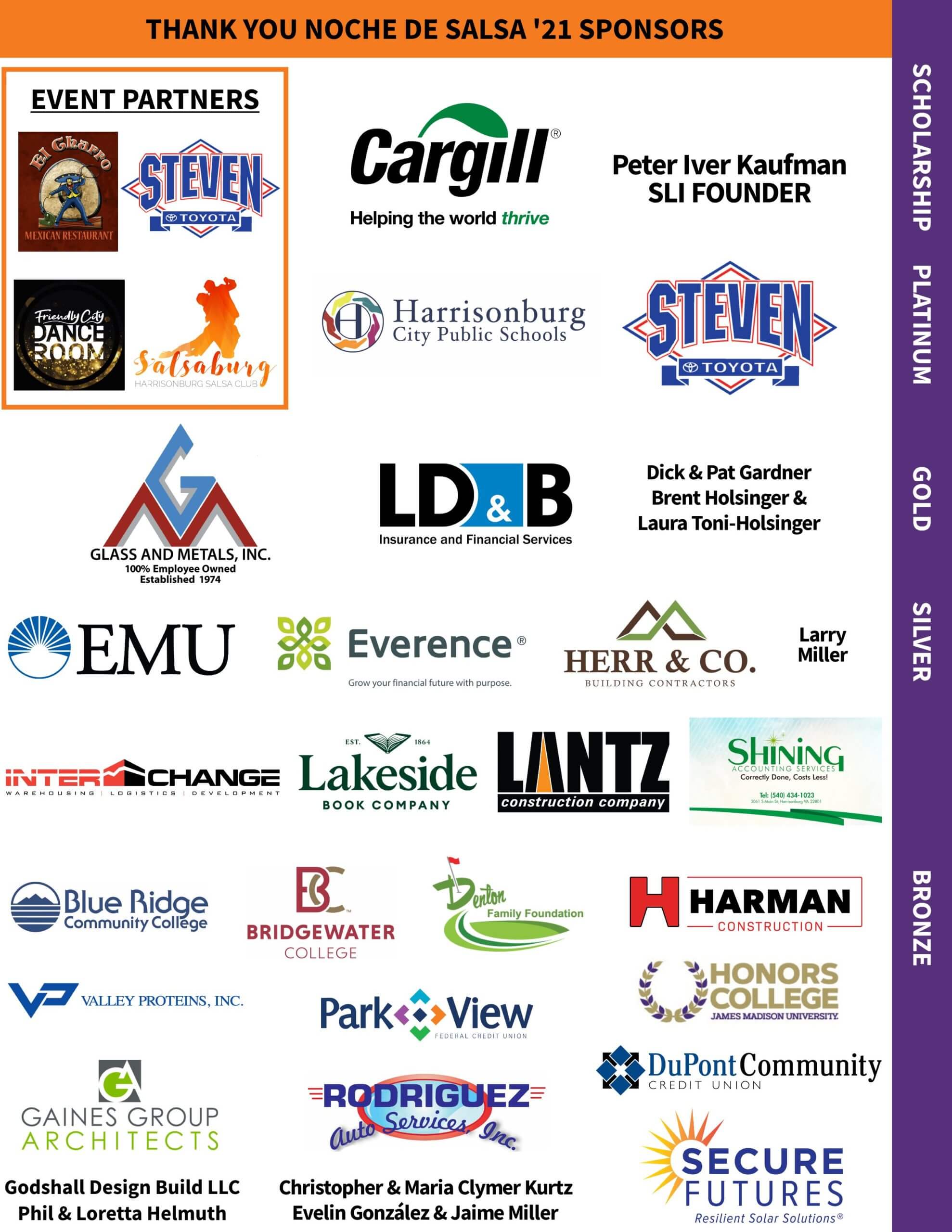 ---
Thank you!
A message from Jason Good, Chair of the SLI Board of Directors:
On behalf of the board of the Scholars Latino Initiative, thank you for your support. Thank you, thank you. By partnering with SLI, you undoubtedly directly made a positive impact in our communities. Since our founding in the Shenandoah Valley in 2012, our SLI family of supporters has consistently grown through new donors and increasing generosity, driving our work to support Latino/x high school students with college access through rigorous academic challenge, leadership development, scholarships, and supportive mentorships.
In just the last five years, you have tripled your donations. Tripled. As a volunteer board and a community based non-profit organization, this immense generosity makes our work possible. These donations have a direct impact on the scholars. In 2021, our annual budget now has over $100,000 allotted for direct scholar financial support through scholarships, computer awards, and dual enrollment support. The family of SLI scholars now has grown to 118 current scholars and alumni who have attended more than 20 colleges and universities.
We are not an organization that only provides financial support. SLI is built on providing comprehensive support and partnership with students through rigorous academic challenge, leadership development, and supportive mentorships. Our programming directors, including university faculty and high school teachers, are truly training the leaders of tomorrow.
We are humbled and honored by the stories of incredible scholars. Alex, arriving in the US as a freshman in high school from El Salvador without speaking English, joined SLI as a sophomore at Harrisonburg High School and by the end of his junior year had a 4.1 GPA, was taking multiple AP, dual enrollment, and honors courses, and is planning on studying computer science in college.
Ángela, a first generation SLI college student, shared "Scholars Latino Initiative has changed my life tremendously and has provided me with help in many ways, giving me guidance and helping me financially and emotionally… When I had the opportunity to join SLI, I saw doors open my way. I was able to meet more people like me who wanted to achieve their dreams. I was able to connect with important people who would academically guide me to choose the right path for my future."
Thank you for joining us on this day and for your incredible generosity. We are honored to work in the Harrisonburg community and partner with incredible organizations, companies, schools, and community members like you.
¡Gracias!
Un mensaje de Jason Good, el presidente de la junta directiva de SLI:
De parte de la junta directiva de Scholars Latino Initiative, gracias por su apoyo. ¡Gracias, gracias! Al colaborar con SLI, sin duda, han tenido un impacto positivo en nuestras comunidades. Desde nuestro establecimiento en el valle en 2012, nuestra familia de partidarios ha crecida con donantes nuevos y generosidad cada vez mayor, haciéndolo posible realizar nuestro trabajo apoyando estudiantes Latinos y Latinx con crear oportunidades de estudiar una carrera universitaria desde nuestros programas de preparación académica, desarrollo de liderazgo, becas, y mentores y amistades que ofrecen un apoyo social y la fortaleza para enfrentarse a las dificultades que acompañan acceder al sistema educativo.
En solo los últimos cinco años, han triplicado las donaciones. Triplicado. Como una junta directiva voluntaria y una organización comunitaria sin ánimo de lucro, esta generosidad inmensa resulta en que nuestro trabajo sea posible. Estas donaciones tienen un impacto directo con los estudiantes. En 2021, nuestro presupuesto ahora tiene más de cien mil dólares asignados para apoyo financiero estudiantil directo a través de becas para la matrícula universitaria, becas para computadoras y becas para los cursos dual-enrollment. La familia de scholars de SLI ha crecido a 118 estudiantes actuales y ex alumnos quienes han asistido a más de 20 universidades.
No somos una organización que solo ofrece apoyo financiero. SLI fue establecido con la filosofía de proveer apoyo comprensivo que incluye preparación académica, desarrollo de liderazgo, y mentores y amistades de apoyo. Nuestros directores de programas, incluyendo profesores universitarios y maestros de las escuelas, verdaderamente están preparando los líderes del futuro.
Las historias y testimonios de los estudiantes nos dan honor y humildad. Alex, llegando a los Estados Unidos en noveno grado de El Salvador sin hablar inglés, empezó con SLI en su segundo año de Harrisonburg High School y a terminar su tercer año tenía un GPA de 4.1, estaba tomando varias clases de AP, dual enrollment y honores, y está planeando estudiar ciencias de computación en la universidad.
Ángela, una alumna de SLI de primera generación universitaria comentó que SLI ha cambiado su vida de una manera tremendo y la ha ayudado de varias maneras, dándole apoyo y ayudándola emocionalmente y financieramente. Cuando tenía la oportunidad de empezar con SLI, vio puertas abrir y tenía la oportunidad de conocer a otros como ella quienes querían realizar sus sueños. Podía conectar con personas importantes quienes la ayudaron a escoger el camino correcto para su futuro.
Gracias por estar con nosotros en este día y por su generosidad increíble. Tenemos el honor de trabajar en la comunidad de Harrisonburg y colaborar con organizaciones, compañías, escuelas y miembros de la comunidad increíbles como ustedes.
And Thank you! to the local businesses and organizations that donated raffle prizes: