Each year, Noche de Salsa celebrates the significant and positive impacts on the lives of Scholars Latino Initiative scholars.
Many thanks to Noche de Salsa '21 sponsors:
---
Scholarship sponsors
Peter Iver Kaufman
Coming soon!
---
Platinum sponsors
Coming soon!
---
---
Bronze sponsors
Christopher & Maria Clymer Kurtz
More coming soon!
---
Noche de Salsa 2020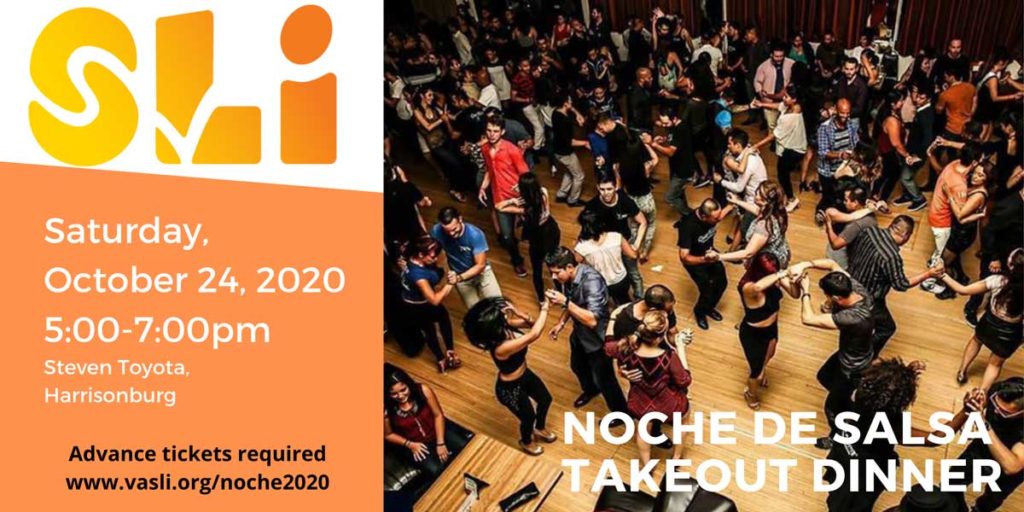 Noche de Salsa 2020 (in pandemic-friendly form!) featured a drive-through takeout dinner from Salgado's Pupuseria y Taqueria. As guests drove through the Steven Toyota service building to receive their food, they saw performing dancers from Salsaburg and the Friendly City Dance Room, received diplomas of gratitude, and were invited to make scholarship donations to support SLI's mission to create college opportunities for Latino/x students.
Media coverage:
Scholars Latino Initiative to convert its fundraiser into a drive-through event
Scholars Latino Initiative dances around COVID-19 for fundraiser
Among the Noche de Salsa 2020 recognees were Michael Walsh, Dean of Admissions at James Madison University, and Gloria M. Figueroa-Vargas, Maestra de Español, M.A., Teacher of Spanish as a Foreign Language and Its Culture at Harrisonburg High School:
"When my father was 18 months old, he lost his father in a mine accident," Walsh recalls. "When he finished high school in 1936, he was able to be the first in his family to attend college because the high school teachers, the college faculty, and community leaders worked together to give him the opportunity. I honor his memory by helping provide first-generation students the same opportunity my father was given."
"Nonprofit organizations as SLI are essential in our schools to ensure support and empowerment for our Latinx students and their families," Figueroa-Vargas said. "SLI focuses on supporting our students academically and being proud of their heritage."
Many thanks to Noche de Salsa 2020 event partners:

Many thanks to Noche de Salsa 2020 sponsors:
Scholarship sponsor
Peter Iver Kaufman
Platinum sponsors
Gold sponsors
Silver sponsors
Pat & Dick Gardner
Brent Holsinger & Laura Toni-Holsinger
Larry Miller
Bronze sponsors
Christopher & Maria Clymer Kurtz
Evelin González
Phil & Loretta Helmuth
---
Noche de Salsa 2019