The best way to learn about SLI is from alumni. Here's what they've said:
---
Meet the Scholars Latino Initiative in Richmond, Virginia, at this Zoom meeting hosted in 2020 by Cecilia Barbosa, chair of the Virginia Latino Advisory Board:
---
"As a Latino, as a minority, you face a lot of issues and difficulty," said Ariel (Huguenot High School '20), shown here with his SLI mentor Jared. "Thanks to SLI and my mentors, I was able to develop a particular interest in the political field and get into college."

Ariel will attend Eastern Mennonite University this fall. Hear Ariel and other SLI alumni talk about their SLI experiences here.
---
"With the college preparation and mentorship, SLI has helped me feel more confident in taking initiative on my own. The college assignments handed to us helped me achieve more in my regular classes by analyzing more thoroughly based on what I had learned from SLI. The community that SLI helps bring together among the Hispanic students, over all, inspires me to become an example for all first generation immigrants that are in my position. By helping me acquire resources, such as college trips, informational programs about college, and helping us discover our passion, SLI helps me set the example of a first generation scholar."

Yamillet (John Handley High School '19)
---
Gabriela (Huguenot High School '19) is studying exercise science at Shenandoah University, where she is involved in the Honors program, SLI, and the Leadership and Educational Development Fellows program.

"SLI has helped me a lot," she said. "Thanks to SLI, I've been able to be prepared for college, be competent and have confidence in myself."
---
Angela (Huguenot High School '19) is studying Arts in Media & Communications at Shenandoah University. She shared about her SLI experiences in a recent virtual meeting and in the following reflection:
SLI has changed my life tremendously and has provided me with help in many ways, giving me guidance and helping me financially and emotionally. At the beginning of my freshman year of high school I was concerned that people would look at me differently because I was new at my school, but my main concern was my future, as I thought I was unable to go to college due to the lack of money and my language barrier. But when I had the opportunity to join SLI, I saw doors open my way. I was able to meet more people like me who wanted to achieve their dreams. I was able to connect with important people who would academically guide me to choose the right path for my future. READ MORE
---
Emily (John Handley High School '19) graduated with an associate degree in business administration from Lord Fairfax Community College in 2020 – just one year after finishing high school, thanks to dual enrollment credits she earned while in SLI.
"I am so grateful to SLI for helping me in my academic career to this point," she said. She plans to study business administration with a concentration in information systems and technology at Shenandoah University.
"SLI is important to me because it has helped shape me into a leader I am today. SLI is a way for students to feel like they have people who believe in them and are there to push them to their highest potential. With SLI I have been able to critically think beyond an education that high school offers. SLI has helped me believe in myself to achieve my dreams and make them into reality despite any obstacles that may come my way. I have learned to not only be a responsible leader for myself but for my community as well. Before I started SLI I was very active in community service but my passion for helping others has grown from the very moment I initiated my intellectual growth in SLI. | Throughout my years in SLI, I have been able to grow academically through college seminars. I am a huge supporter of these seminars because it allows students to analyze and comprehend education apart from what your regular high school classes offer. With college seminars, I have been able to learn valuable skills that I will definitely carry with me for the rest of my life."

Emily (John Handley High School '19)
---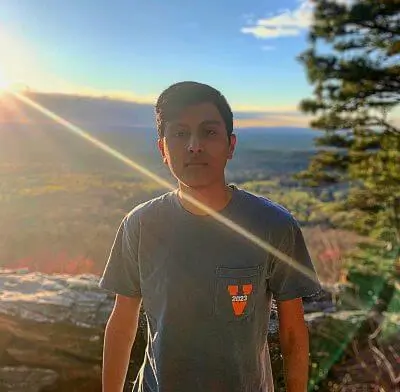 A chemical engineering major with an interest in environmental science at the University of Virginia, Jaime (John Handley High School '19) is a peer mentor for incoming Latinx students transitioning to college and serves on the executive board of the university's Latinx Leadership Institute.
"SLI positively impacted me by offering resources to help navigate my high school course selection, helping me develop a critical-thinking mindset through college-level seminars, and financially supporting my community college transfer credits and college expenses," he said.
---
"When I was in high school SLI allowed me to make connections I would've otherwise not made. I had the opportunity to talk to many college professors, work with JMU students, and I was able to be part of many informational retreats. All the information that I learned while being a SLI student helped me prepare for college as a minority student at a PWI [predominantly white institution]. My mentors, Carlos Aleman and Hannah Bowman, definitely always helped push me to give my best and I am so thankful they did because it has helped me these past few years."

Kellyn (Harrisonburg High School '18) is a rising junior at Virginia Tech with a double major in human development and Spanish with a minor in chemistry on a premedical track. She has made the VT Dean's list every semester, is preparing for the MCAT, and is earning EMT certification.
---
"One of the most important things SLI gave to me was a window to the college world and showed me that it was an option. I, as a Latino, still have the option to pursue my education and dreams. | SLI has always encouraged me to push myself for those harder challenges in the classroom and out. Talking with people that come from the same place as you really makes you realize that you aren't alone and makes you more comfortable with your own voice. Being comfortable with who I am and where I come from boosted my confidence alongside my ability to lead and represent. | SLI gave me the opportunity to ask questions and interact with college students and professors. For a lot of people the transition from high school to college can be somewhat scary. SLI removed that fear because I was already familiar with how to tackle the college transition and life. Taking that fear away is a huge step in moving forward in the pursuit of your education."

Jozhel (John Handley High School '17) is pursuing a degree in civil engineering
---
Lupe (Harrisonburg High School '17) has made the Bridgewater College Dean's List for six consecutive semesters (through the spring of 2020). A Spanish and family and consumer sciences double major with concentrations in child development and family life education, she plans to enroll in graduate school next year and work as a teacher at a local preschool or daycare.

For Lupe, SLI was "a support group who are like me and have the same motivation to succeed," she said. "My experience as a SLI scholar has only affected my life in the utmost positive ways and I'm grateful for having had the opportunity to be a part of something bigger than myself."
---