Thank you!
Notes of gratitude from SLI scholars
---
My family and I are very grateful for the SLI computer award. Yesterday my mom and I went to buy the computer I needed for my first year at Virginia Union University. As of today, I will start a few of my classes virtually, and the computer will be a great help (I am emailing you from it). I am beyond thankful for this opportunity. My mother works really hard to support me and my sister in everything she can. She's a strong, amazing woman, always supporting us and being there for us. This award was a blessing for me and we are very thankful. 
Best regards,
Meybelline and family
---
---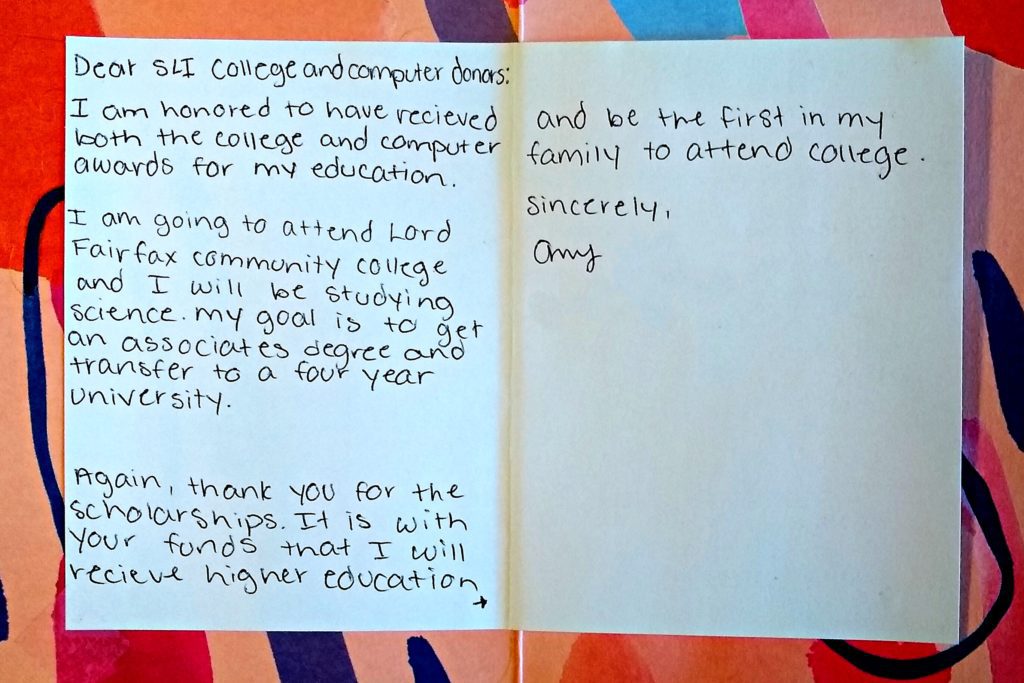 ---
Thank you. To everyone. To everyone who I have met along every step of my journey, and to everyone who has given me so many opportunities to become a better student, and a better person in general, thank you. Thank you to everyone who has supported SLI because if it wasn't for you, I wouldn't have been able to be part of such a wonderful program.
SLI will forever hold a special place in my heart, and I hope that in the future, I can have the opportunity to become a mentor as well. I wish I could find the words to express how grateful I am but the truth is that I can't. However, to everyone who has been a part of SLI, I just wanted to let you know that all the effort, time, and sacrifice that you all have placed into this organization has not been in vain.
All that you have done for me as well as for my sister, we have not taken for granted. Thank you.
---
Thank you for supporting SLI scholars like Everth and their families by helping to create college opportunities, including through scholarships, computer awards, dual enrollment tuition support, mentorships, and programming. With you as partner, "SLI recognizes and supports the outstanding efforts by student scholars who are often overlooked, under-supported, and under-resourced, and who have our gratitude and respect," said SLI program director Carlos Alemán, Ph.D.
Learn more about SLI scholars and read the testimonials of these young people, who are well worth our shared investment of resources, time, and commitment.