A letter from Jason Good
chair, SLI board of directors
vice president for innovation and student recruitment, Eastern Mennonite University
Dear SLI Community of Support,
As 2020 comes to an end, I want to express my gratitude to you for your vital participation in creating college opportunities for SLI's 114 current and alumni scholars, like Jaime: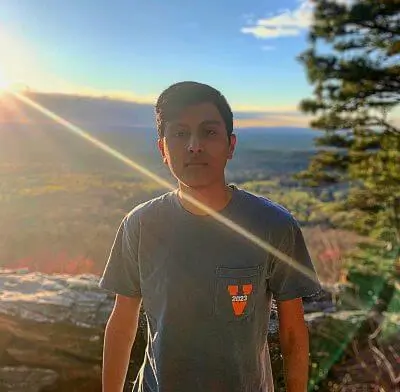 "SLI positively impacted me by offering resources to help navigate my high school course selection, helping me develop a critical-thinking mindset through college-level seminars, and financially supporting my community college transfer credits and college expenses."

–Jaime, SLI alum
John Handley High School '19
University of Virginia '23
The outpouring of support for SLI this year has allowed SLI to expand its 2021 budget for college scholarships, computer awards, and dual enrollment tuition assistance to more than $100,000, a first for this young nonprofit. Thank you for helping to grow SLI's impact!
I am proud of what SLI has been able to offer even during the COVID-19 pandemic. SLI's program directors at high schools and universities in Harrisonburg, Richmond, and Winchester continue to find unique and creative ways to impact scholars, such as:
"Early College" seminars with reading and writing assignments on democracy;
Workshops on financial aid, scholarships, and the college application process;
Peer mentorship including meeting with new SLI candidates and through individual pairings and student organizations;
"SLI on Sunday" virtual gatherings focused on support and well-being and leadership;
Community service efforts such as a voter registration campaign that resulted in 30 new registered voters, including the parents of one scholar. Spring semester activities will include a clothing drive for families in Central America affected by hurricanes, participation in a community campaign for sustainable solar energy, support for an initiative to provide college application assistance and career guidance to Latinx immigrants who have graduated with their GED, and a post-holiday gift grab for elementary and middle-school students who may need to replenish school supplies;
Artist meetings with poet and performer Denice Frohman and Peabody Award winning film writer, director, and producer John Valadez, in collaboration with JMU's Center for Multicultural Student Services and the JMU Honors College; and
Book study and capstone project with JMU English Professor Allison Fagan on Just Mercy by Bryan Stephenson.
Again, thank you for being part of SLI's successes in 2020.
Wishing you all the best in the new year,